Welcome to the LinoCave. My name is Susana McDonnell and I am a Boston-based printmaker. I have been an artist ever since I could hold a pen. Throughout my life I have studied and taught many forms of art. I have settled on relief printmaking because it brings me joy and I can do it in the cozy home studio my husband made for me.
My process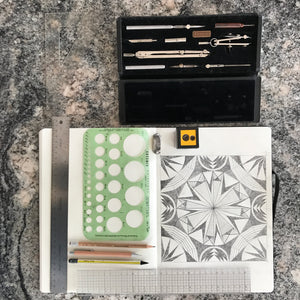 Design
I use old-fashioned tools of the design trade to hand-draw each of my patterns.
Carve
After transferring my design onto a linoleum or rubber block, I carefully carve out each and every detail.
Print
I mix all of my own colors and roll just the right amount of ink onto my block. I hand-stamp each impression.
Sew
After printing my fabrics I use a combination of machine and hand sewing to create each of my products.